The Process of Rehabilitation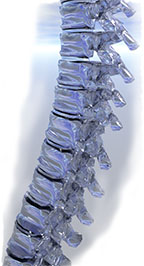 The spinal cord is like a busy freeway carrying feelings of touch up from your body to your brain and sending movement commands down from your brain to your body.  When all of the lanes are working, the traffic flows smoothly.  If you damage your spinal cord or it stops working for some other reason, it's like losing lanes on this freeway.  The injury may be complete, which means that the road has been blocked and information cannot travel up or down.  A complete injury means that feelings cannot travel up from the affected part of your body so you will not be able to feel some parts of your body.  You are also not going to be able to control the muscles in parts of your body.  If the injury is incomplete, it's like having some of the lanes blocked but some cars can still get through.  The amount of information that will get through in an incomplete injury will depend on how bad the damage is.  Accidents, falls, and injuries are usual causes of spinal cord injury.  The spinal cord can also lose function because of diseases.  If these diseases are not getting worse over time, they may be followed in the SCI system of care.
Once someone hurts their spinal cord, they have to get emergency medical care.  This often means a stay in a hospital intensive care unit.  Once the doctors think the patient is ready, he or she can start their rehabilitation.  The word "rehabilitation," or "rehab," describes all of the different kinds of work that go into giving you the best possible quality of life.
Most people who injure their spinal cords have two or more periods of rehabilitation.  The first period is called the initial or sometimes the inpatient rehabilitation.  The initial rehabilitation is where you will work with a rehabilitation team to figure out how the injury will affect you and to give you the help and education you need.  The second period of rehabilitation is ongoing rehabilitation or Life-long Care.  The ongoing rehabilitation will be part of the medical care you get for the rest of your life.  The ongoing rehabilitation will help you avoid new problems and help you adjust to any changes in your life.
Initial Rehabilitation
The initial rehabilitation (or rehab) is a very important time, an injury to your spinal cord will affect many parts of your life.  You are also a member of the rehab team.  You will help make many important decisions during your rehab.  Your rehab team will have experts in spinal cord injuries including doctors, nurses, psychologists, social workers, and therapists.  Each team member will explain to you what they do and answer all of your questions in a way that you can understand.
The goal of initial rehab is to give you the medical care you need and to give you the skills you need to live and work with a spinal cord injury.  What you do during your initial rehab will depend in part on where your spinal cord was hurt and on how badly it was hurt. 
During the initial rehab, you might work to get back some function that you lost because of the damaged spinal cord.  The initial rehab is also a time for learning.  You will learn about the skills you will need to function both personally and as a part of a family, on your job, and as a part of society.
Life-Long Care
Once you have a spinal cord injury, you will need to get care on a regular basis from doctors, nurses and others who are trained to understand spinal cord injury.  The VA system has been set up to make that as easy and convenient as possible.
Every year, you should have a Health Promotion Evaluation.  For this evaluation, you will meet with a team of different experts, just like you did for your initial rehab.  Together, you will go over any problems you might be having.  The team will also help you adjust to any new changes in your life such as starting a family or problems you may have as you get older.  It's very important to get this yearly check-up.  Most veterans will have their yearly health promotion evaluations done at an SCI Center.
Most veterans use a facility with an SCI Primary Care Team for their day-to-day health needs.  SCI Primary Care Teams are at VA Medical Centers around the country.  Primary Care Teams are made up of least one doctor, one nurse, and one social worker.  All of the Primary Care Team members have had spinal cord injury training. 

VA will provide evaluation for dogs to aid in the assistance of visually, hearing, or physically impaired Veterans on a case by case basis.  Once the Veteran and the accredited dog meet established standards and are approved, VA will assume responsibility for providing veterinary care and assistive devices for the functionality of the service dog such as backpacks and harnesses.